For 115 years, Yakima Federal Savings and Loan has been investing in our communities.
In 2018, Yakima Federal gave back $386,085 in charitable contributions to our communities.
We are honored to take part in funding community building projects, helping those without shelter get into homes, fostering the arts and education and supporting our communities.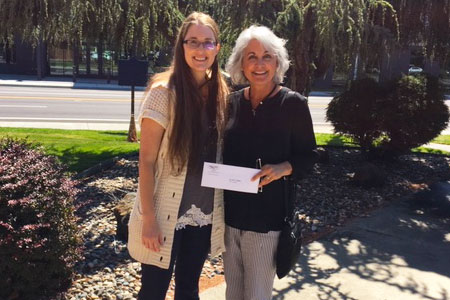 Habitat For Humanity trailer replacement
In early August, thieves stole a tool trailer containing items needed to build a block of 24 habitat homes in Pasco. Later, the trailer was found set on fire and abandoned in a ditch. Yakima Federal is happy to donate $7,500 to help replace the trailer and get Habitat back on track again. The photo features Meaghan Hafer, Manager of the Pasco Yakima Federal branch and Theresa Richardson, the Executive Director of Tri-County Partners Habitat for Humanity.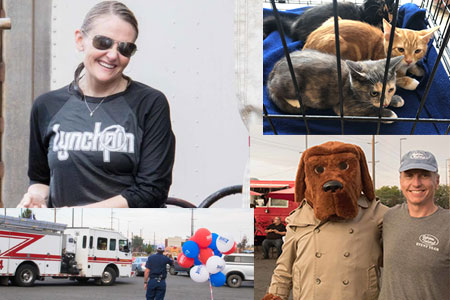 National Night Out - Lynchpin Foundation
On Tuesday, August 6th, the Yakima Federal events team sponsored a dunk tank at National Night Out. The dunk tank was a fundraiser for the Lynchpin Foundation, an organization that empowers teens by teaching and encouraging social skills. We are proud to help organizations like Lynchpin who contribute so much to the wellbeing of our communities.
Over the past 44 years through its Award for Academic Excellence program Yakima Federal Savings and Loan Association has provided over two million dollars in college scholarships to local graduating high school seniors. This year Yakima Federal is awarding $136,000—including $2,000 each to 68 seniors from high schools throughout Central and South Central Washington.
Yakima Federal is also again contributing $2,000 to seven local colleges: Washington State University-Tri Cities; Heritage University; Central Washington University; Perry Technical Institute; Columbia Basin Community College and Yakima Valley College and Pacific Northwest University of Heath Sciences.

2019 Yakima Federal Savings and Loan Scholarship Recipients
| | | | |
| --- | --- | --- | --- |
| Alexis F. Rodriguez Cabadas | | AC Davis High School | |
| Fiona Dunbar | | AC Davis High School | |
| Hannah Binfet | | Bickleton High School | |
| Maria Cruz | | Chiawana High School | |
| Talmage Hales | | Chiawana High School | |
| Katelyn Nass | | Cle Elum Roslyn High School | |
| Mason Gray | | Cle Elum Roslyn High School | |
| Ethen Ditty | | Columbia High School | |
| Juliana Nelson | | Columbia High School | |
| Dillon Herron | | Connell High School | |
| Israel Poulson | | Connell High School | |
| Connor Batali | | East Valley High School | |
| Ellee Siebol | | East Valley High School | |
| Carter C. Martinez | | Eisenhower High School | |
| Brandon Mellergaard | | Ellensburg High School | |
| Marilyn Schlanger | | Ellensburg High School | |
| Marin Bender | | Grandview High School | |
| Reese Ramos | | Grandview High School | |
| Adrianaya Roettger | | Granger High School | |
| Alvaro Campos Gonzalez | | Granger High School | |
| Annie Shen | | Hanford High School | |
| Michael Pham | | Hanford High School | |
| Emelin Delgado | | Highland High School | |
| Lincoln Hakala | | Highland High School | |
| Isabelle Conover | | Kamiakin High School | |
| Jeremy Rexus | | Kamiakin High School | |
| Atticus (AJ) Templeton | | Kennewick High School | |
| Isabelle Graham | | Kennewick High School | |
| Heidi J. Sanchez | | Kiona-Benton High School | |
| Vitaliy Rizin | | Kiona-Benton High School | |
| Bailey Allen Gibson | | Kittitas High School | |
| Lainey Allemand-Riles | | Kittitas High School | |
| Brian Buchanan | | La Salle High School | |
| Jordyn Tuning | | La Salle High School | |
| Anna Loera | | Liberty Christian High School | |
| Michael Moran | | Liberty Christian High School | |
| Jose Morales-Macias | | Mabton High School | |
| Litzy Velasco | | Mabton High School | |
| Kaitlin Falk | | Naches High School | |
| Angelica Guzman | | Pasco High School | |
| Cristian Paz | | Pasco High School | |
| Antonio Cortez Jr. | | Prosser High School | |
| Mickayla Woods | | Prosser High School | |
| Jazmine Gray | | Richland High School | |
| Kyle Prigge | | Richland High School | |
| Kamaile Boogaard | | River View High School | |
| Mathew Pierre | | River View High School | |
| Joseph Allen | | Riverside Christian High School | |
| Samantha Flippin | | Riverside Christian High School | |
| Nicholas Garretson | | Selah High School | |
| Tess Dietrich | | Selah High School | |
| Crew Morris | | Southridge High School | |
| Reegan Moll | | Southridge High School | |
| Krista Den Hoed | | Sunnyside Christian High School | |
| Ross Faber | | Sunnyside Christian High School | |
| Alex Calvillo | | Sunnyside High School | |
| Brianna Adilene Toscano | | Sunnyside High School | |
| Andres Aguilera | | Toppenish High School | |
| Ariah Romero | | Toppenish High School | |
| John M. Nelson | | Tri-Cities Prep | |
| Daisy Adame | | Wahluke High School | |
| Ruben Aravjo Saucedo | | Wahluke High School | |
| Madelyn Osorio | | Wapato High School | |
| Faith Sullivan | | West Valley High School | |
| Luke Powers | | West Valley High School | |
| Gabriela Sanchez | | White Swan High School | |
| Jace Lang | | Zillah High School | |
| Kelsea Nunes | | Zillah High School | |
| | | | |