Yakima Federal Savings and Loan customers raise $5,722 for Children's Miracle Network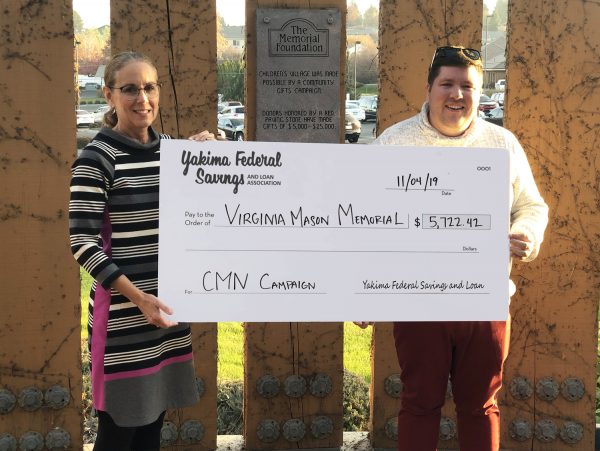 Yakima, WA – Yakima Federal Savings and Loan is pleased to announce a contribution of $5,722.42 to The Memorial Foundation on behalf of customers and employees of the local bank. The donation is to benefit children of Central Washington needing medical care.
The donation caps off a three-week balloon sales drive where customers purchased paper balloons for a minimum $1 donation. The funds raised benefit thousands of babies and children across Central Washington by supporting specialized programs, services and equipment at Virginia Mason Memorial's Neonatal Intensive Care Unit, Pediatric Unit, The Family Birthplace, and at Children's Village.
"Yakima Federal partnered with The Memorial Foundation to put on the Children's Miracle Network campaign, but credit goes to our employees in all ten locations for enthusiastically promoting the program and to our customers who financially supported the campaign." Said Antonio, "We hope to make this an annual tradition as a way of helping kids in our communities."
Yakima Federal Savings and Loan has ten branches in Central Washington and has served the financial needs of the area for nearly 115 years.
"We are grateful to the employees of Yakima Federal Savings and Loan for their support of babies and kids cared for at Virginia Mason Memorial," said Josh Munson, CMN Hospitals & Corporate Partnerships Manager at The Memorial Foundation. "Their support is vital to sustaining the programs and services needed for children with health care challenges right here in Central Washington."
Children's Miracle Network Hospitals® raises funds and awareness for 170 member hospitals that provide 32 million treatments each year to kids across the U.S. and Canada. Donations stay local to fund critical treatments and healthcare services, pediatric medical equipment and charitable care. Since 1983, Children's Miracle Network Hospitals has raised more than $5 billion, most of it $1 at a time through the charity's Miracle Balloon icon.