Clear Choice Student Checking
Clear Choice Student Checking from Yakima Federal is coming!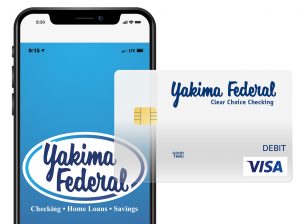 COMING SOON!
Yakima Federal will soon roll out our first online-focused checking account made specifically for students.
The Clear Choice Student Checking card can help students learn to manage money, plus it has all the features students and parents expect from a checking account.  It can be used everywhere that takes VISA and features the Yakima Fed service you expect.

DETAILS:

$25 minimum balance to open
Accepts direct-deposits (necessary for many jobs)
Transfer funds using Zelle
Free initial VISA translucent debit card
Free Yakima Federal ATM access
Up to 2 non-Yakima Federal ATM fees refunded/reversed.
Free Online Banking with eStatements, Mobile App, Mobile Capture, and Bill Pay
Free Card Control app which allows you to turn the card on and off and set alerts.
Parents may monitor the account (for holders under 18)
Works with Apple Pay / Google Pay
 
Note: These are the expected features and benefits of the new Yakima Federal Clear Choice student checking account. Details may change before the card is made available to the public. The card image/design is representational of the expected design, but may not be an exact representation of the actual card. The account is expected to be available Summer 2020.
Eligibility requirements:
To be eligible to open the account, one of the account holders must be between the ages if 14-24. If aged 24, the account holder must be enrolled in high school, college, university or vocational program.  For account holders between the ages of 14-17, a parent or guardian must be the joint owner of the account.