January 2023
Yakima Federal Savings and Loan Association held its Annual Meeting virtually on January 18, 2023.  The President, as the managing officer of the Association, provides a full report on the financial condition of the Association, its progress for the preceding year and outlines a program for the succeeding year. Here are highlights from our President's Annual Meeting report.
2022 started out with anticipation that the Federal Open Market Committee or FOMC, would end their COVID-19 era policies and begin a series of interest rate increases as they seek to meet their mandate to achieve maximum employment and control inflation. While unemployment had remained low, there were inflationary signals indicating that the Fed would need to take action on interest rates starting last year.  Having held interest rates near zero for nearly two years, we knew interest rates were headed up.  Knowing when rates would rise and how much was our challenge.
March 2022 saw the first federal funds rate increase of .25%.  This was followed in May by a .50% hike.  The .75% increases in June, July, September and November brought the fed funds rate up to 4.00%.  The most recent December 2022 move was another .50% increase.  The federal funds rate has gone from zero to 4.50% over the course of 2022. As a result the interest rate on a new 30 year fixed rate mortgage doubled as did our cost of funds.
Loan demand started off strong but softened as the year went on.  Competition for deposits heated up especially as brokerage firms, direct banks and area credit unions raised certificate of deposit rates to new highs.  We ended the year with new lending volume 4.5 percent lower than in 2021 but we achieved 10 percent growth in our conventional loan portfolio. Deposits ended up down 1.3 percent from the end of last year.
We ended the year with assets remaining over $2 billion and added over $18 million to our net worth.  We improved our return on assets ratio to .94, maintained our low expense ratio and continue to have one of the highest capital to assets ratios in the industry at 24.45%.
In 2022 we made 402 residential mortgage loans for nearly $146 million.  The majority of these loans, $62.7 million were for the purchase of a home.  Over $48 million was lent for new home construction.  Some of these loans contributed to the local housing industry by providing loans to area homebuilders to construct new housing. Requests for refinance loans dropped to $34.4 million as interest rates increased.
We also made seven commercial real estate loans for $25.2 million, home equity loans for $3.6 million and home equity lines of credit for $4.3 million.   In total, we closed 484 loans for over $178 million during 2022.
Deposit account balances shifted from what are known as demand deposits, primarily checking and money market accounts, to Certificates of Deposit which are earning rates substantially higher than in the past 16 years.  At the start of 2022 funds held in demand deposits and certificates at Yakima Federal were nearly balanced at 50% each. By the end of 2022 demand deposits were reduced to 43% while certificates grew to 57%.
We completed two Branch office improvement projects during the year.  The first included a major interior remodel at our Pasco Branch office on Court Street.  The building was originally constructed in 1990 and needed a new roof.  After taking a good look around inside, we found the space could be reconfigured to provide more convenience and efficiency for our staff and improve service for our customers.  The design of our Richland Branch opened in 2020 served as the inspiration.  Construction was completed in May of 2022.
Our Sunnyside Branch received an exterior facelift this past fall.  The roof there also needed to be replaced and we added new blue metal fascia and gray paint to the building exterior.  Sidewalks on three sides of the building were replaced and the south entrance made more accessible with a new ramp.
We also replaced all of the drive-thru equipment at both the Pasco and Sunnyside locations.  Our drive-thru facilities were used extensively during 2020 and 2021 due to COVID-19 related lobby closures.  We now have state-of-the-art equipment at these two drive-thru locations and plan to update a few more in the coming years.
Digital enhancements in 2022 included the launch of online new account opening and implementation of a Customer Relationship Management System.  Both of these initiatives improve the customer experience as they interact with Yakima Federal online and in person with our staff.
Now looking forward to the New Year in 2023, we are predicting that loan demand remains light as the interest rate for a 30 year fixed rate mortgage hovers around six percent.  There will be some additional pressure to increase deposit rates but we hope rates will stabilize over the course of the year.  We believe that our income will be higher than last year and while we will control our operating expenses, we anticipate our interest expense will be twice that of 2022.  We will produce a healthy bottom line income and further increase our capital to assets ratio.
Most of our planned digital projects focus on replacing and improving internal equipment and processes.  These include a wide area network upgrade and computer server replacements. Not very exciting but certainly necessary to maintain our operations!
And we have a few Branch Office improvements we hope to complete, including upgrading drive-thru equipment when feasible.
2022 marked 117 years since the founding of Yakima Savings and Loan in 1905. We were chartered with the mission to promote thrift and homeownership.  We remain committed to being a safe place for community members to deposit their hard earned money and we use those funds to provide financing for residential mortgages.  Thank you to everyone who plays a part in our ongoing success.  This includes our Directors, Officers, employees and especially our customers.  We wish you all the best in 2023.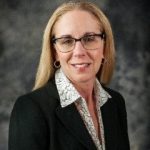 Leanne Antonio
President & CEO