Our Values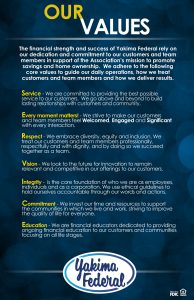 The financial strength and success of Yakima Federal rely on our dedication and commitment to our customers and team members in support of the Association's mission to promote savings and home ownership.  We adhere to the following core values to guide our daily operations, how we treat customers and team members, and how we deliver results.
Service – We are committed to providing the best possible service to our customers.  We go above and beyond to build lasting relationships with customers and community.
Every moment matters!  We strive to make our customers and team members feel Welcomed, Engaged and Significant with every interaction.
Respect – We embrace diversity, equity and inclusion. We treat our customers and team members professionally, respectfully and with dignity, and by doing so we succeed together as a team.
Vision – We look to the future for innovation to remain relevant and competitive in our offerings to our customers.
Integrity – We use ethical guidelines to hold ourselves accountable through our words and actions. Integrity is the core foundation of who we are as employees, individuals and as a corporation.
Commitment – We invest our time and resources to support the communities in which we live and work, striving to improve the quality of life for everyone.
Education – We are financial educators dedicated to providing ongoing financial education to our customers and communities focusing on all life stages.