Virtual Annual Meeting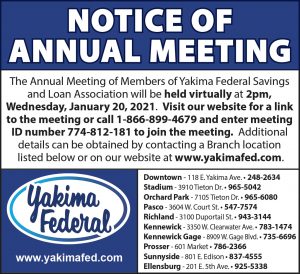 The Annual Meeting of Members of Yakima Federal Savings and Loan Association will be held virtually at 2pm, Wednesday, January 20, 2021.
Visit this website for a link to the meeting or call 1-866-899-4679 and enter meeting ID number 774-812-181 to join the meeting.
As stated in our Notice of Annual Meeting, customers who want to vote for directors nominated for election can obtain a ballot by either downloading a PDF below, or visiting or calling any of our branch locations.  The ballot must be received at our Yakima Office, 118 E Yakima Ave, Yakima on or before January 20, 2021.
Additional details will be posted as they are available.