Financial Fitness Blog
How can I protect myself and others I care about from fraud and scams?
There are several steps you can take to protect yourself and others from fraud and scams.
Criminals and con artists use many scams to target unsuspecting people who have access to money. Consumer scams happen on the phone, through the mail, e-mail, or over the internet. They can occur in person, at home, or at a business.
Here are some tips to protect yourself from scams:
Don't share numbers or passwords for accounts, credit cards, or
Social Security.
Never pay up front for a promised prize. It's a scam if you are told that you must pay fees or taxes to receive a prize or other financial windfall.
After hearing a sales pitch, take time to compare prices. Ask for information in writing and read it carefully.
Too good to be true? Ask yourself why someone is trying so hard to give you a "great deal. If it sounds too good to be true, it probably is.
Watch out for deals that are only "good today" and that pressure you to act quickly. Walk away from high-pressure sales tactics that don't allow you time to read a contract or get legal advice before signing. Also, don't fall for the sales pitch that says you need to pay immediately, for example by wiring the money or sending it by courier.
Put your number on the National Do Not Call Registry. Go to 

www.donotcall.gov

  or call (888) 382-1222.
---
How do I get a copy of my credit reports?
You are entitled to a free credit report every 12 months from each of the three major consumer reporting companies (Equifax, Experian and TransUnion). You can request a copy from AnnualCreditReport.com
You can request all three reports at once or you can order one report at a time. By requesting the reports separately (for example, one every four months) you can monitor your credit report throughout the year. Once you've received your annual free credit report, you can still request additional reports. By law, a credit reporting company can charge no more than $13.50 for a credit report.
You are also eligible for reports from specialty consumer reporting companies. We put together a list of several of these companies so you can see which ones might be important to you. You have to request the reports individually from each of these companies. Many of the companies in this list will provide a report for free every 12 months. Other companies may charge you a fee for your report.
You can get additional free reports if any of the following apply to you:
You received a notice that you were denied credit, insurance, or employment or experienced another "adverse action" based on a credit report, you have a right to a free report from the credit reporting company identified in the notice. To get the free report you must request it within 60 days after you receive the notice. Other types of "adverse action" notices you might receive include notice of an unfavorable change in the terms or amount of your credit or insurance coverage, or unfavorable changes in the terms of your employment or of a license or other government benefit.

You believe your file is inaccurate due to fraud.

You have requested a credit report from a nationwide credit reporting company in connection with the placing of an initial fraud alert (you may request two free copies for an extended fraud alert).

You are unemployed and intend to apply for employment within 60 days from the date of your request.

You are a recipient of public welfare assistance.

Your state law provides for a free credit report.
Tip: Be cautious of websites that claim to offer free credit reports. Some of these websites will only give you a free report if you buy other products or services. Other websites give you a free report and then bill you for services you have to cancel. To get the free credit report authorized by law, go to AnnualCreditReport.com  or call (877) 322-8228.
---
Set them on a path toward a solid financial future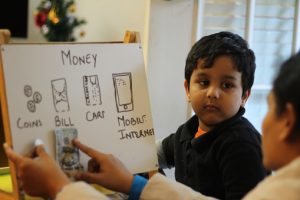 Managing money isn't easy. Waiting to learn about handling money until you are on your own as an adult makes it even more challenging. Teaching kids about money early on will help them to become more financially independent as they get older. Financial education has been linked to lower debt levels, higher savings, and higher credit scores as children mature into adulthood. Later on in life, that financial education is also positively connected to net worth and investing.
Parents are the primary influence on a child's future financial well-being because they have many occasions to communicate information, set powerful examples, and involve children in activities that teach them financial skills. Parental involvement in their children's financial education has long lasting effects.
Different ways children learn about money
One of the biggest ways children learn is by observing. Chances are, you go to work to provide for your family. Your child can see that a relationship exists between work and money. Have a conversation with your child about work and how your earnings influence your purchases, where you live, and how you get to work.
Another great way to teach your children about money is by including them when paying bills or discussing large purchases. Family financial meetings can be a way of teaching children about the financial choices you make and why you make them. Depending on the age of the children, try to put it in terms they understand. The main idea is to teach them the importance of budgets and making choices with your money.
Children learn about money by doing. By having your child actively participate in a trip to the grocery store, they can see how budgeting relates to shopping. You might open a savings account online to provide an opportunity to teach about saving money, especially if they see you are saving as well. At an appropriate time, an outing to your local bank to show them where their account is located and what a bank does can also prompt conversations about money. If your child operates a lemonade stand, has a cookie sale, dog sits, or babysits, use these occasions to teach about earning, spending, saving, and donating.
Children can learn about money by reading with you. A number of children's books currently on the market teach all about earning, spending, saving, borrowing, and donating. These books provide an easy and spontaneous opportunity for questions and answers. Check your local library for suggestions; you may be able to check out books online with your library card. You may also be able to read books online through other free services.
Children learn about money by playing, particularly if you are playing with them. Board games with play money can be great teachers. Online games provide a fun way to teach about money and start smart money conversations.
Financial education resources for children
The FDIC, the Consumer Financial Protection Bureau (CFPB), and the National Credit Union Administration (NCUA) provide different types of free financial education materials for pre-kindergarten through college students.

The FDIC has a Money Smart curriculum (Money Smart Catalog) with modules written for specific age groups. While targeted toward teachers and schools, parents can use the Money Smart program at home, too. If you don't know how to start the conversation with your children, check out the children's books offered as references in many of the modules. These books can be a good way to start a lesson and begin a smart money conversation.
CFPB's Money As You Grow program teaches children how to reach certain age-appropriate financial milestones. The CFPB also offers a list of children's books that can help open conversations about money.
If having a smart money conversation while you play is more your style, you might visit NCUA Games. The NCUA offers World of Cents to teach your children about earning, saving, and spending through a match game with coins. Test Your Money Memory is a match game that pairs United States coins and currency with the appropriate president. Hit the Road is a game about earning and spending using a trip across America.
The U.S. Mint also has free games and activities for children. From math games to coin scavenger hunts, you can find all sorts of smart money conversation starters. Likewise, the Federal Trade Commission (FTC) offers free games like The Mall, which teaches children about advertising, business competition, privacy, and scams.
Having open conversations about money with your children, shopping with them on a budget, reading to them about money, and playing money games will have a lasting effect on their ability to better manage finances in the future.
Here are some more resources.
For more help or information, go to FDIC.gov or call the FDIC toll-free at 1-877-ASK-FDIC (1-877-275-3342). Please send your story ideas or comments to consumeraffairs@fdic.gov
---
5 Ways to Boost Your Financial Health Amidst COVID-19  

Financial decisions can feel complex and hard even under normal circumstances. If the current market volatility has you questioning what are the "right" actions you should take now, you are not alone. Here are five concrete ways for you to jumpstart your financial wellness in the wake of the novel coronavirus.  
Don't touch your face or your 401k  
Time for some facts. Markets fluctuate over time, and returns often come with risks. While COVID-19 is certainly adding unprecedented volatility to the stock market, it is critical to take a long-term view when it comes to investing.  
Chances are that when you set up your 401k or IRA you picked a diverse asset portfolio, and selected a monthly contribution that you were comfortable with. Trust that you picked the right option, and stay the course. When considering your retirement, the strategy you had in place in February should be your continued strategy for the months ahead. Take a deep breath and trust that the market will bounce back.  
When it comes to investing in your retirement, the best thing to do is invest regularly and aim to have a monthly contribution of 10-15% of your total income.  
Have more questions about saving for retirement, and finding a plan that's right for you? Check out our digital financial resources. https://yakimafed.everfi-next.net/student/dashboard/financialeducation/yakimafed-preparing-for-retirement/1714#401k-plans  
Build Emergency Savings  
Unexpected moments like these are precisely why an emergency fund of 3-6 months take-home pay is so critical. If you have an emergency fund to tap into, great job! If you are among the 40% of Americans who would find an unexpected $400 expense challenging to pay, know that you are not alone, and there is always time to build your savings.  
To start, dive into your finances from the previous month. Take a hard look at non-essential spending. Eliminating even small expenses, especially monthly membership fees, can quickly add up over time. After you have cancelled or paused any non-essential recurring payments, create a budget tracker to identify where and how you spent your money. How much were you spending on dining out? Ridesharing? Online shopping? Once you have that breakdown, you can more accurately set goals around what you need to start, stop, and continue doing in order to build your emergency savings.  
If you're new to the world of budgeting, the 50 / 30 / 20 rule is a great place to start. Set a goal of how much money you want to contribute to your emergency savings each month, and don't forget to celebrate when you meet (or exceed!) your goal.  
For additional help with how to approach emergency savings, explore our online resources. https://yakimafed.everfi-next.net/student/dashboard/financialeducation/yakimafed-investing-in-your-future/1567#emergency-savings  
Refinance a Loan 
March 2020 marked a period of extreme market volatility, to say the least. To stabilize and protect the economy, the Federal Reserve slashed interest rates to record lows. These decade-low interest rates could save you money if you choose to refinance your mortgage, private student loans, or other debts. Keep in mind that federal and private student loans are different, and you could be losing benefits by adjusting your federal loan.  
Traditional advice is to refinance when rates are 1-2% below your current rate. Make sure to keep an eye on your closing costs, so you make a decision that takes all costs into consideration.  
Time Your Taxes  
For any procrastinators that have put off doing their taxes, good news – U.S. taxpayers have a three-month extension on the deadline to file their federal tax return due to the novel coronavirus pandemic. Tax Day has been pushed from April 15th to July 15th, 2020.  
If you are among the many Americans who typically receive a tax refund — that is, you paid more taxes to your state or federal government (through payroll withholding, for example) than your actual tax liability, the Internal Revenue Service (IRS) is advising that you file your taxes earlier so that you can get your money sooner.  
Click here to learn more about taxes with this short, interactive overview. https://yakimafed.everfi-next.net/student/dashboard/financialeducation/yakimafed-building-financial-capability/1696#taxes-the-basics  
Make a Plan and Regain Control  
You can only control what you can control.
The good news is that your financial decisions and behaviors are 100% under your control.   Use this time at home to reset any riskier financial behaviors. This is a great time to start building healthy financial habits, while the lure of expensive purchases like events, sporting games, travel, fancy restaurants, etc. are off the table. Find your money zen – what spending habits make you happy? What do you spend money on that you have no memory of a month later? Which purchases sit on a shelf collecting dust or cluttering your space?  
Take the time to build a budget and stick to it. Set up regular monthly investments. Build your emergency savings fund. Use this time as a bootcamp to become a top-notch steward of your financial present and future. You've got this!  
To continue upskilling your financial capability, visit Yakima Federal's Financial Fitness Center for our full suite of educational content. https://www.yakimafed.com/fitness  
This blog content was created in partnership with EVERFI. Yakima Federal Savings and Loan is a member of EVERFI's Financial Capability Network, and we are proud to deliver critical financial education to our communities.  
---
This Year, Focus on Your Finances

This article was developed as part of Yakima Federal's partnership with EVERFI, Inc.
By now, most people have made their resolutions for self-improvement in the new year. While the most popular resolutions tend to focus on physical health, the start of a new year is also a perfect time to prioritize your financial wellness.
Ready to get started? Read on.
5 Ways to Up Your Money Game this year!
  Make a Budget and Stick to it. Budgeting is one of most effective ways to manage your money. Creating and monitoring a budget allows you to track your expenses, adapt to changes, and achieve your financial milestones. Budgeting can also help you save for emergencies and plan for the long run – including retirement.
Use our online budget building tool to break your budget down into simple, easy steps and get started
  Build Your Emergency Savings. Unexpected expenses happen more often than we like to think. According to a 2018 Bankrate study, more than half of Americans are not financially prepared to cover the costs that come with emergencies, such as illness, job loss, or even home and auto repairs.
Get more information on the immediate steps you can take this year to start and grow your savings  
  Plan for Your Retirement Now. Less than half of Americans take the steps needed to set themselves up for a secure retirement. While saving for the future is easy to put off in favor of more immediate needs, the earlier you start, the more opportunity you'll have to grow your savings over time.There's no better time than now to start planning for retirement.
Learn about options, like IRAs and 401(k) plans, with our free retirement education.
  Get Ahead of Your Taxes. Taxes are confusing, and many people are bogged down by complex terms and lengthy paperwork. However, your taxes don't need to be a source of anxiety. In fact, getting ahead of your taxes can reap many benefits, including lowering stress and having early access to a refund for year-long planning.
Make filing your taxes a breeze with tips from our five-minute interactive learning module.  
  Take Control of Your Credit. Your credit score can have significant impacts on your financial security and flexibility. Many people have never had the opportunity to learn what a credit score is, what factors impact a credit score, and what actions they can take to make sure their score is healthy.
Take a few minutes to understand the factors that impact your credit score and you'll be well on your way to building a more secure financial future.